As my long time readers are well aware, I'm a huge fan of automating your finances.  For about seven years now I've been using Mint.com to track all of my spending, and to manage my budget. While Mint is an amazing service, I found it was severely lacking when it came to keeping track of my investment accounts.
Enter Personal Capital. I discovered Personal Capital about a year ago after reading about it on another finance blog and decided to give it a try. For those of you who have never heard of Personal Capital, it's a free website that allows you to track your spending and investments all in the same place. Think of it as Mint.com with its focus on investing rather than budgeting. After a few bumps in the road early on in my experience, I can now confidently say that Personal Capital is the best way to manage your investment accounts. Hands down.
My Experience Using Personal Capital
When I first signed up for Personal Capital they were still pretty new on the scene, so as I was connecting all my financial accounts I hit a major snag in the road. My 401(k) plan wasn't compatible with their service! All of my other bank accounts, credit cards and investment accounts connected just fine, but without my 401(k) it would be pretty useless for tracking my investments. I emailed their customer service team hoping there was some work around I could use to get it connected, but alas there was nothing that could be done. (Kudos to them for responding within the same day, though.)
So I forgot about my Personal Capital account for the next few months, until I read another blog post about the service. I signed in gave my 401(k) account another shot, and boom! Connected! Now I could really see what they were all about.
My Favorite Personal Capital Features
The 401(k) Fee Analyzer:
In my opinion this one feature is worth creating a Personal Capital account for all on its own. Most 401(k) plans are littered with fund choices that have high expense ratios. High expense ratios and hiddenfees in our 401(k) plans are the silent killer of retirement dreams (this will be a post of its own soon enough). The Personal Capital 401(k) fee analyzer looks deep into your 401(k) plan and the funds you're holding within it and as you might have guessed, analyzes the amount in fees you're paying.
As you can see from the analysis of my 401(k) plan above, I'm losing a full year of retirement due to what my 401(k) provider and funds are taking in fees. The sad thing is, I'm actually doing really well controlling those fees in my account! Run your 401(k) through the fee analyzer and see how many years you're losing out on, and then see if you can improve your fund selection to cut down on unnecessary fees!
Free Asset Allocation Analysis and Recommendations 
Another one of my favorite Personal Capital features is the investment checkup tool. Answer a few simple questions about yourself and your risk tolerance/investing goal and Personal Capital will run through your current asset allocation and compare it to the one it recommends based on the information you provided. Not only do they recommend an asset allocation for you: they also compare the historical performance of your current allocation to their recommended one, they show how much more or less money you're projected to have at your chosen retirement date, and even how you can reduce expected risk without sacrificing returns.
The Ease of Monitoring Your Portfolio
Personal Capital doesn't just spit numbers at you, everything on the site is expressed very neatly in graphic form. I stare at Excel spreadsheets all day at work, so to have these kinds of things expressed in colorful charts and graphics is a welcome relief to me!
The cool thing about how this is all displayed is that you can click on any area to drill down on that sector and see your detailed investments expressed in a similar graphic form. Let's take a look at the largest section of my portfolio, my US stock holdings.
Similarly, you can drill down even further from here to see individual holdings. I guess now would be a good time to mention that yes, I know my asset allocation is way out of whack. Part of it comes from taking a cautious approach to what I buy in this bull market, part of it comes from recently adding my fiance's investments to the mix which has thrown off where I was at with my target allocation.
Personal Capital's Security
It goes without saying that connecting all of your financial accounts to a website requires a lot of trust that they'll have the proper security. I feel that Mint.com has great security and have used them for years without a second thought. Personal Capital takes its security measures a step further than Mint does.
Not only do they have the typical security measures you'll find on any modern banking website (complex passwords, picture verification, etc…), but you also have to register each new device you try to log on to your account with. I was pleasantly surprised to discover this when trying to log on from my work computer for the first time. In order to access my account not only did I need to supply my email address and password, but I needed to enter a unique verification code that they would provide to via an automated phone call or an email. It's very similar to Google's two-step authentication, which you should all be using on your Google accounts by now anyway!
Personal Capital Isn't Perfect
Like I mentioned above, I had some trouble connecting accounts at the beginning of my experience. Only recently has my 401(k) been available to connect with Personal Capital. You may notice in the screenshots I posted that 3.7% of my portfolio is supposedly "unclassified". This is due to Personal Capital not being able to recognize a few of the funds in my 401(k) and therefore not knowing what asset class to consider them.
This wouldn't be a problem if there was a way I could manually assign those funds to an asset class, but if the ability to do so exists, I haven't found it. I'll have to email customer service and see if there is anything that can be done about that. Stay tuned.
All of the services I've mentioned so far (and many others not mentioned) are 100% free. However, not everything on Personal Capital is free.
If you have over $25,000 in investments connected to your Personal Capital account you'll receive a phone call from "your Personal Capital advisor" who will offer up professional financial advice regarding your holdings. This is not a free service. As with any professional financial advisor (Read: Do You Really Need A Financial Advisor?) there are fees involved. Personal Capital's financial advisors charge a fee based upon a percentage of assets under management and their fee schedule is as follows:
< $250,000: 0.95%
$250,001 – $500,000: 0.90%
$500,001 – $1,000,000: 0.85%
$1,000,001 – $5mm: 0.80%
> $5,000,000: 0.75%
You obviously aren't required to use this service, but if you're looking for some help with your investment planning you can do so for what will probably be lower fees than most financial advisors would charge you (the industry average is 1%).
Final Thoughts
While I remain loyal to Mint.com for everything relating to tracking my spending and maintaining my budgets, I've yet to find a better investment management tool than Personal Capital. The amount of quality and amount of analysis they provide for free is unparalleled based on what I've seen with other services (It easily blows Mint's investment's section out of the water). It also makes tracking your investment and your asset allocation a heck of a lot easier than an Excel spreadsheet.
I can't comment on their paid services as I haven't used them, but the amount of information they give away for free is astounding. I truly believe Personal Capital is the best online investment tool out there. Even if you only use it to run your 401(k) through the fee analyzer its worth your time to sign up for a Personal Capital account.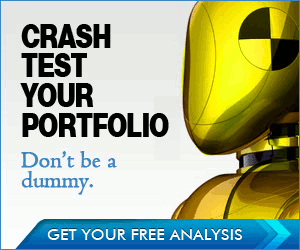 Readers: What do you use to track your investments? If you use Personal Capital, what do you like/dislike about their service? 
Thanks for reading! If you enjoyed this post be sure to subscribe by email or RSS to keep up with all the latest posts!